Do your PLT Training at Murdoch Law School
From 2019, Leo Cussen Centre for Law will collaborate with Murdoch University to deliver its Graduate Diploma Legal Practice (Practical Legal Training) from our law school. This means that Murdoch law graduates can now stay on campus to complete their PLT (practical legal training) as the bridge to admission to legal practice.
Why Choose Leo Cussen for your PLT?
Highly practical course – learn practical skills by running client files from start to finish in various practice areas
Career support – dedicated Graduate Placement and Careers Advisor to help with placement, job search and preparation
A blended learning program – online course delivery combined with 13 dynamic days of intensive, personalised, face-to-face training split into 3 blocks at the beginning, middle and end of the course
Flexible study options – choose either part-time or fulltime study
Outstanding Mentors – experienced lawyers provide frequent, comprehensive feedback and personalised support
Develop excellent advocacy skills – through compulsory civil and criminal file work and advocacy
Gain strong legal business skills – run your own files, maintain client contact, meet deadlines and bill clients
No theoretical exams – 'learn by doing', with continuous practical assessments
Develop strong networks – with peers and those in the legal profession
Leo Cussen graduates – work in a wide range of legal and professional environments in Australia and overseas
An outstanding reputation – Leo Cussen has offered practical legal training courses since 1974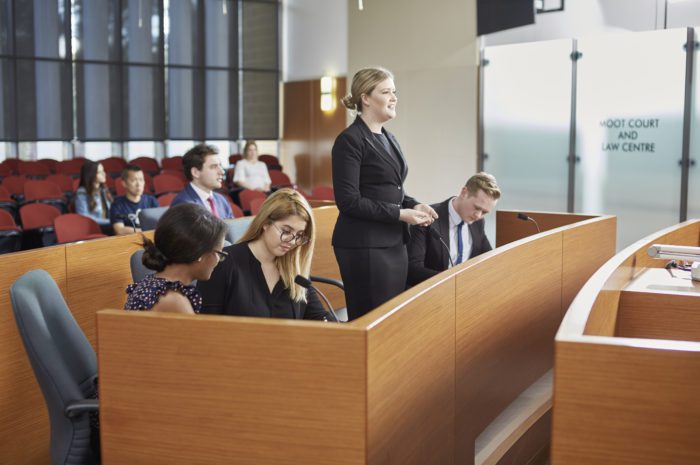 To apply for the Graduate Diploma in Legal Practice at Leo Cussen, please click on the link below. If you are having difficulty accessing the online form, please call Leo Cussen on 1300 039 031
21 weeks of formal training, which includes 13 days of onsite and intensive, face-to-face sessions.
And either:

4 weeks of professional placement plus a 5-week equivalent additional coursework Career and Profession Ready Module which may be completed concurrently with the formal training and/or professional placement; or
9 weeks of professional placement (if exempted from the Career and Profession Ready Module)
One PLT Course is offered per semester. Please note that, in addition to the expected 25 -35 hours per week of online study, you must attend all face to face sessions.
International Students FAQ's
If you are an overseas student with any questions about Leo Cussen PLT, have a look at our FAQS.
You can also email our Overseas Student Coordinator, Fonda Gazis: fgazis@leocussen.ed.au.