We currently have a legal system that is unaffordable to nearly 80% of the population (The Justice Gap).
We therefore have a problem.
While we are confident there are brilliant lawyers entering the profession with the ability to solve this, we also need to ensure they are sent into their new roles with the skills to question legal processes respectfully and constructively. This is why Leo Cussen has revitalised its graduate program – we believe these skills will help craft a new type of lawyer for a more dynamic legal system.
Our concept for the new graduate program is going beyond IQ and EQ. It's about developing TQ, CQ and AQ.
What are those, you ask? They're our building blocks for the "Whole Lawyer".
The Whole Lawyer comprises 4 professional capabilities: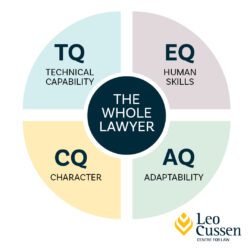 TQ – Technical Capability
To achieve the best outcome for their client's business or personal situation, a lawyer must be able to run client matters with skill and efficiency.  Sound technical skills provide our grads with the ability to work with supported autonomy when they commence working in their first legal role.
In the Leo graduate program, law grads move through five rotations, building their technical legal capability as they go.
In the Induction rotation, grads are introduced to legal work, with a focus on skills development.  They then head into their first practice area, Transactions, where they learn technical legal skills and business mindsets for Commercial and Corporate Practice, as well as Property Practice.  They develop commercial acumen, build on their writing and drafting, understand their client's strategic goals, and analyse their client's legal position. This provides them with the skillset to provide effective legal advice and services to their clients.
Next, grads move to their Specialist rotation where they build their experience and technical proficiency in running client matters. Here, they will select two from these eight Practice Areas: Administrative Practice in a Human Rights context, Banking and Finance, Consumer, Criminal, Employment, Family, Planning and Environment, and Wills and Estates.  Here, they build the unique skills, and learn the procedures and processes, for running client matters in two diverse practice areas.
In the Disputes rotation, grads learn the technical skills of running a client dispute through the appropriate court in their jurisdiction.  This helps them to develop the technical legal skills to successfully represent clients in litigated matters and hone their ability to resolve matters without the need for a court hearing.
Finally, in the Profession Ready rotation, grads bring together all their technical legal skills to work collaboratively on an urgent interlocutory matter.  By testing their skills working under time pressure as part of a team, they will discover how to achieve effective legal solutions for their clients.
EQ – Human Skills
In a world where we increasingly communicate digitally rather than in person, learning how to make eye contact and read body language is more important than ever. Because of this, new lawyers must develop the people skills to effectively build rapport during colleague and client interactions.
Human skills are also critical for facilitating successful negotiation. New lawyers need to be able to read the responses of the other party or how the court or tribunal is responding to their submissions. Only then can they successfully adjust their approach and achieve the best outcome for their clients.
Client interviewing, negotiation and advocacy are developed and appraised over 10 days of immersive synchronous learning. For fully online grads, these 10 days have been redesigned into shorter sessions delivered on Zoom.
As part of the development of these skills, Leo Cussen grads can undertake a secondment during their GDLP and work as a paralegal with Anika Legal.  This takes the place of simulated course content for grads looking for hands-on experience working with real clients and real legal problems.
CQ – Character
In 2015 the Institute for the Advancement of the American Legal System launched Foundations for Practice ("FFP") – a national, multi-year project designed to identify the needs of new lawyers as they enter the profession. The Institute delivered a survey to more than 24,000 lawyers across the country and identified that, more than anything, new lawyers needed character. Or more specifically, integrity, trustworthiness, ethics, and resilience.
Character is developed throughout the whole Leo Graduate Program via mentoring focussed on connecting grads with understanding ethics in practice, enhancing professionalism, goal setting and reflective practice.  Leo Cussen prioritises deep mentoring throughout the program, so mentors can provide real value to their graduates.
As part of our mentoring space, we have partnered with leading wellbeing organisation Benny Button to provide data-driven wellbeing learning and development. Grads have access to an app 'Wellbeing Checkpoint' which enables them to observe how they are feeling and functioning over time and set small self-care goals, which will hopefully lead to habits as they join the profession.  We will continue to support access to Wellbeing Checkpoint through our alumni's first 12 months in the profession.
AQ – Adaptability
Adaptability is what the Harvard Business Review calls "the new competitive advantage".
People with a high Adaptability Quotient (AQ) can thrive in unpredictable environments because they are able to easily learn to do new things. This superpower is developed through the Leo Justice Lab – a program that is undertaken by every Leo Cussen graduate. Working in teams, they apply fresh eyes to a real access-to-justice problem, articulated by a partner organisation. Graduates are taught transferable methods and mindsets for innovation, including legal tech awareness, critical thinking and collaborative problem solving.  Design thinking additionally teaches them to work harder to understand the problem, rather than simply rushing to find a solution.
The four capabilities work together to balance technical adeptness with advanced human, communication and creative skills, as well as an ethical mindset.
Our goal is that this will create the Whole Lawyer – professionals capable of not only forging a successful career, but also facilitating positive change and innovation across the entire profession.
📽 Watch our short video to learn more about The Whole Lawyer
Madeleine Dupuche, Director Learning Transformation