🎵 It's the most wonderful time of the year 🎵
During the festive season we get just a little excited about all things Christmas.
We interviewed three Lawyer Mentors and asked them what they like most about Christmas (and even some dislikes). So, alongside their professional profile, gain an insight into what brings them Christmas cheer.
🎅
Tiffany Long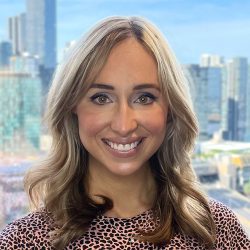 At Leo Cussen
Tiffany is a Mentor in the Practical Legal Training program, with a primary focus on the blended ACT/NSW course. Tiffany works with students to ensure that they achieve a high level of success in their studies with Leo Cussen and is passionate about teaching resilience-based skills to emerging lawyers.
Before Leo Cussen
Before joining Leo Cussen, Tiffany worked in private firms and at Legal Aid in the areas of family law, family violence and child protection. Prior to her admission, Tiffany also worked as a paralegal in commercial and construction litigation.
Tiffany has extensive advocacy and negotiation experience and aims to pass on some of her experiences in these areas to students. Tiffany is a member of various ACT Law Society Committees and is dedicated to fostering an inclusive legal profession which upholds the highest standards of legal knowledge and conduct.
🎄 Christmas Facts 🎄
Favourite Christmas movie? Love Actually – I watch it every year with my family. There is something so nostalgic about it now… and it contains my most favourite Christmas song in the entire world…
Favourite Christmas song? One of the most exciting times of the year is late November when Mariah Carey dusts off the Christmas sparkles and re-emerges into my world. All I Want for Christmas is You on repeat for a month. Not negotiable.
Favourite Christmas food? Anything seafood, but I am not fussy come Christmas time. The more the merrier in our household, where we usually host Christmas. I am happiest with a full table of family, food and sometimes even friends and neighbours. I usually spend the days leading up to Christmas preparing a feast while listening to Mariah on repeat (maybe with a Christmas cocktail in hand). I live for this time of year!
Favourite summer holiday destination: My own backyard! After a busy year there is nothing better than chilling out at home in the warm weather with my family… Although a beach is always a welcome addition too!
David Velleley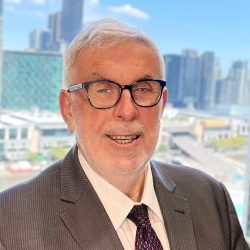 At Leo Cussen
David is a Lawyer and Mentor for our Practical Legal Training Law Grads at Leo Cussen Centre for Law.
Before Leo Cussen
David has broad experience in general legal practice and has worked as a Solicitor in State Government Legal Departments. He also worked in a large city commercial firm and in smaller city, suburban and regional firms.
For many years David was a sole practitioner operating a general practice which transitioned into a firm focused on civil litigation.
David was previously a lecturer of Practical Legal Training.
🎁 Christmas Facts 🎁
Favourite Christmas movie? A Christmas Story – Accurately reflects what kids think about Christmas, life and growing up – even though it's set in a completely different time and client. Love lots of elements including the main character (a young primary school boy) trying to convince his parents (and anyone who will listen) to persuade Santa to bring him a Daisy BB rifle for Christmas; the father's expletives when trying to assemble presents together; the tongue incident; the lamp monstrosity; and the calmness of the mother who makes sure all is well for her family.
Worst Christmas movie? White Christmas – too sugary for me
Favourite Christmas song? White Christmas – despite the movie – my dad loved Bing Crosby and it reminds me of him trying to imitate him. He was pretty good by the way.
Favourite Christmas food? Baked Ham. It reflects my theatrical ability.
Worst Christmas gift? Socks! Need I say more…
Favourite summer holiday destination: Coffs Harbour NSW – where my grandchildren live!!!
Mary Shamalay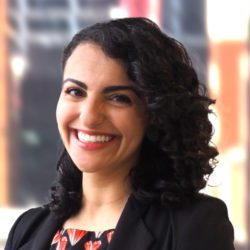 At Leo Cussen
Mary is a full-time Mentor in Practical Legal Training, working with trainees in the blended online course.
Before Leo Cussen
Mary was admitted to the legal profession in 2012 after completing her PLT at Leo Cussen Centre for Law. In the nine years since she was a Leo Cussen trainee, Mary has built her career in the community services sector with a commitment to driving innovative and evidence-based change to improve outcomes for the Victorian community.
Beginning her career in private practice, Mary worked in areas of environment, major project approvals, town planning, health & safety incidents, and family law. However, she quickly realised she was far more interested in advocacy and social justice, thereby shifting her career to the public sector. Mary worked at Victoria Legal Aid and the Children's Court of Victoria in various capacities, as a lawyer, Nationally Accredited Mediator (NMAS), and senior projects officer, in areas of youth crime, family violence, and child protection. Mary's broad-ranging experience in operational and strategic capacities has given her deep insight into the complex issues facing individuals in the justice system, specifically those who cross over multiple jurisdictions.
Mary also volunteered in the community legal sector for many years.
🎅 Christmas Facts 🎅
Favourite Christmas movie? Home Alone – I dare anyone to disagree with this!
Worst Christmas movie? Home Alone 3 – Why mess with perfection?
Favourite Christmas song? All I want for Christmas is You.
Worst Christmas song? All I Want for Christmas is You (after over-listening to it)
Favourite Christmas food? Macarona Bachamel (an Egyptian dish we only have on Christmas and Easter) – carb heaven!
Worst Christmas gift? Because I don't really have an answer for this (my family is great at gift giving), I found a hilarious one online: One year I got what was actually a super cool present. My parents had worked for months putting together this awesome art kit. It was a big toolbox filled with good scissors, glue, paint… The problem was, every time they would go upstairs to add to it, they had a running joke where they would say, 'We're going upstairs to feed your present' or 'We need to take your present for a walk'… So, of course, on Christmas morning, instead of being a little kid who was stoked to get a huge box of art supplies, I was a little kid who was devastated that I didn't get a puppy. 
Favourite summer holiday destination: Mexico – I honeymooned there with my gorgeous husband, just before the very first lockdown in 2020. Warm, fun, replete with culture, awesome people, and delicious food.