Becoming a lawyer requires so much academic work and yet law firms seek law graduates who are confident in speaking with clients and working in a professional environment. You can obtain law firm work experience while you are studying and during your PLT in a professional placement. In this article we discuss both, so you are across "what's what" in legal work experience, while giving you some tips to finding those all so important opportunities.
What will I learn in legal work experience?
For example, at a law firm, work experience opportunities can include exposure to workplace etiquette, administrative skills that underpin workplace organisation and communications.
Your experience will vary depending on the employer, work available and your ability to adapt to the work environment. Work experience opportunities can include exposure to workplace etiquette, administrative skills that underpin workplace organisation and communications. Activities might include:
research tasks and written memos
attending client interviews, meetings, conferences, mediations, conciliations or court hearings
drafting and reviewing legal documents
Where can it be done?
law firms (any size)
government departments
courts or tribunals
in-house legal departments
community legal centres
barristers' chambers (subject to special conditions)
Can my university help?
Your university will have strong connections with different law firms and community centres which are worth exploring. Your lecturers and law societies will be great connections into this world, so make sure you use these connections to find legal work experience. Many law schools also offer clinical legal education subjects which contribute towards your degree while also giving you a taste of legal practice in a community legal setting.
What opportunities can I find myself?
One of the best places to find legal work experience is to apply to a community legal centre (CLC), where students and law graduates can work with community clients and gain exposure to real responsibility for court matters. While there are many CLCs covering a variety of areas of law, family and criminal law tend to be a focus for many of them. You can apply directly to a CLC to go onto the waitlist as a volunteer in your local community. You can find a CLC near you at the following website: www.clcvolunteers.net.au. We encourage you to sign up for these centres as early as you can, as the waitlists can be long!
Clerkships
Another great way to get legal experience is through clerkships, mostly in commercial law, many of which are governed by the Law Institute of Victoria (LIV). All the firms connected with LIV provide 3 – 4 weeks of legal work experience in a law firm offered mainly to law students who are in their second-to-last year of their law degree. Some of these firms will also choose their graduate lawyers from their pool of clerks. The recruitment process is highly structured and selective, but there are lots of firms offering legal experience. You can find key dates and more information on the LIV website.
While they may not offer larger-scale clerkships, many small and medium-sized firms are open to receiving direct requests from law students to do some work experience. This can be a great way to get exposure to not only a range of commercial experience but also to non-commercial areas of law such as personal injury, criminal and family law. The LIV website has a directory of law firms to help get you started.
Virtual Internships
Now more than ever, students need online work experience options. Leo Cussen has partnered with Forage to build two Virtual Internship Programs designed to provide students with valuable insight into what it's like to solve real issues in legal practice. One internship focuses on human rights law, and the other focuses on criminal law. The virtual internships are free, entirely online, and accessible to all law students and graduates. Once complete, the internships can be put on your CV. They are led by leading practitioners in these areas and designed specifically to create real work experience for law students, graduates and junior lawyers. Watch our short video clip here on virtual internships or visit our virtual internships page to register for free.
PLT and work experience placements
All PLT students do a work placement as part of the course, and Leo Cussen provides lots of support to help secure that placement. This provides a chance to hit the ground running and build your confidence with the support of your mentor and instructors.
The options of PLT placement depend on the course type you undertake at Leo Cussen: we arrange the PLT placement on your behalf for our face-to-face course, and our Careers & Placement Advisor provides support to all Leo Cussen students to source a placement. At Leo Cussen, our PLT students also have permission to complete an online module instead of a placement during COVID-19. The module is completely online and includes a simulated work placement which gives you the skills to be an exceptional lawyer, whilst keeping the flexibility to be at home or working.
You can find out more about our Practical Legal Training and legal work placement on our website. Watch our short clip here:
In conclusion….
If you wish to have a career in law, work experience will be greatly beneficial to you. There are plenty of options available for you to complete work experience in law, both during law school and PLT, either in-person or virtually. Whilst there can be a lot of work involved in applying for the placements, it is one of the best things you can do for your career in law. At Leo Cussen, we are big believers in work experience and this is seen in our simulated practice learning model. If you have any questions or want to know more about our PLT placement programs, book a time to chat or check out how our course is structured . Learn what's what in PLT.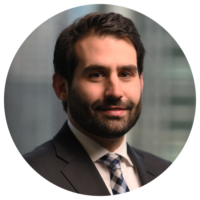 Alex Giannopoulos
Alex Giannopoulos is our Manager of Industry Engagement & Careers. With a background as a lawyer and in recruitment, Alex provides best practice insights into helping law graduates ensure the success of their pathway to becoming a lawyer.