We recently interviewed current Law Grad Sanjeeva Pathinayake.  He is undertaking the Practical Legal Training course with Leo Cussen and discusses his future aspirations while working full time and how Leo Cussen's PLT will help him be the best Lawyer he can be…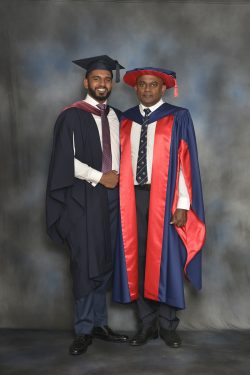 Photo: Sanjeeva Pathinayake with his father and Leo Cussen Alumni Dr Athula Pathinayke
What do you believe is the biggest difference between law school and lawyer school (PLT with Leo Cussen)?
SP: Within the first month of commencing Leo Cussen, I can immediately see the relevance and practicality of the course with the profession. When comparing it with university, I believe it is a far more useful tool than the (university) course itself. I hope that one day, Leo Cussen will become a compulsory component of an Australian law degree!
Why would you like a career in law?
SP: I have chosen a career in law to follow my dream of tackling financial crime. I believe I can use this useful degree not only to assist Australian's, but to also bring a different mindset to the industry.
What are you most nervous about in starting your career as a lawyer? And what has helped resolve those concerns?
SP: My biggest fear has been not knowing where or how to start. I believe Leo Cussen's practical training (particularly the intensive days) has eased a lot of these nerves.
How do you juggle working while learning to be a lawyer?
SP: I am currently working full time and it is quite the challenge to balance whilst completing the Leo Cussen course. I am fortunate enough to have a great mentor who understands this challenge and has provided me with simple, but very effective tools to balance both commitments.
What are you looking forward to most in the first year of your legal career?
SP: I look forward to learning a lot of the basic things that I have practiced at Leo's as well as what I have learnt at university. It will give me great satisfaction when I can pick up a file and know what to do as I have completed similar work beforehand (of course this may not happen in one year!).
Advice for others wanting to study Law and/or what would you tell your 16 Year Old self?
SP: The biggest advice I would give my 16 year old self is to get as much practical experience as possible.
What do you wish the future of law /legal profession to look like (if you could shape change)?
SP: The one component an Australian Law Degree lacks is the practical application of the knowledge throughout the course. Just like the medical profession where placement is compulsory, a course like Leo Cussen should be mandatory if you would like to complete your Law Degree. Though not everyone likes to practice law, Leo Cussen teaches you much more than how to practice law – time management, accuracy, letter writing and presenting to name a few.
If you are an alumni from Leo Cussen Centre for Law, be sure to join our mailing list and keep up to date with all of our events, CPD programs and more; https://www.leocussen.edu.au/about-us/join-alumni/