Congratulations on taking the next step to becoming a qualified Australian lawyer!
You've enrolled and now you're wondering, what happens next?  
To help prepare you for the start of your PLT, we've put together some of the most common questions we receive from law grads just like you.  
1. Do I need to do anything else to confirm my enrolment?
We're pleased to tell you that your spot in the PLT program is secured! 
If you have any outstanding documents such as a final transcript, you can get it to us before your first day of PLT. We'll stay in touch with you to let you know if there's any other documents we require. You'll receive a formal confirmation letter from our enrolments team once all documentation is in order. 
In the week leading up to your PLT start date, you'll receive an email inviting you to log in to our Learning Management System, Brightspace. While most of the course content won't be available until the start date, you'll be able to log in to your program early to get a feel of the learning environment. 
2. Do I need to do any preparation or reading before my first day of PLT?
The short answer is 'no'. Our program simulates the experience of being a graduate in a best practice national law firm, so you won't have any pre-reading to do. You'll be working on client matters in much the same way as when you commence your legal career.  This, of course, is under the guidance of your mentor and supervising lawyer.
3. What will my first couple of weeks of PLT look like?  
As our program simulates a graduate program in a law firm, you'll take part in 5 rotations across the program. Combined with immersive sessions, mentoring, Leo Justice Lab and placement, you will develop technical capabilities, human skills, character and adaptability – we call this the Whole Lawyer. Learn more about the Whole Lawyer at Leo Cussen.  
The program is easy to navigate and broken down into microlessons so you'll be learning as you go, and your focus will be on working through each client matter. While the cases are based on real facts, your clients are all fictitious – so it's a safe space to learn! 
Here is a diagram of how it all comes together: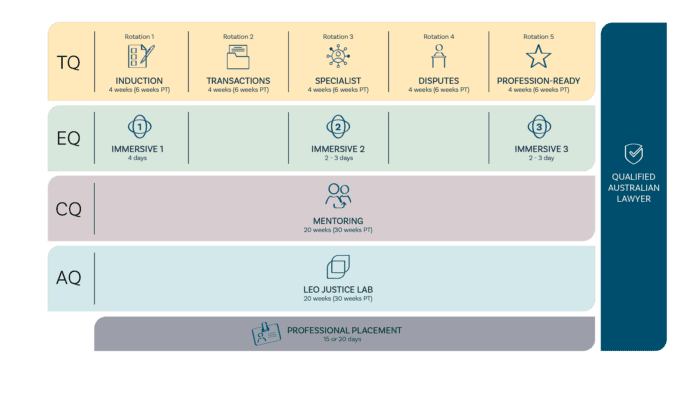 4. What happens with my PLT placement?
Everyone undertaking the PLT program must do a 15-day placement (20 days in WA). 
When you do the PLT program with us, you have two options on how you wish to undertake your placement and will depend on the enrolment option you have chosen. 
With the first option, you will be provided support and guidance from the Leo Cussen career team to find your own placement. 
 Alternatively, Leo Cussen can organise a placement that aligns with your preferred areas of law. We have an extensive network to help you complete your placement. These include relationships with law firms, in-house legal teams, community legal centres and government departments. If you did not choose this option when you enrolled, don't worry, you have until the census date to add this option. 
5. What do I wear to PLT for onsite and immersive sessions? 
As the saying goes, dress for the job you want.  Business attire is the requirement for onsite and blended PLT programs, and any time you come into one of our locations. 
6. How can I stay connected before PLT commences?
From the time you enrol to your first day of PLT, you'll hear from us regularly with updates, tips and invitations to events, so keep an eye on your email. 
7. If I have questions or need support before I start, how do I get in touch?
If you have any questions and or need any more information, we're always here to help. Simply call, email or schedule a chat. 
We're really looking forward to helping you be the Whole Lawyer and launch your career in law. 
Look out for our upcoming events. In the meantime, check out the recordings of our past events.