Preparing lawyers for a complex, challenging and rapidly changing world in which they will work is what Leo Cussen do best and we have been inspired by the careers led by our Alumni.  We are delighted to share some interviews with you.
Hear from Ashley Sherr, Senior Associate at Sparke Helmore Lawyers who graduated from our Practical Legal Training Course in 2016.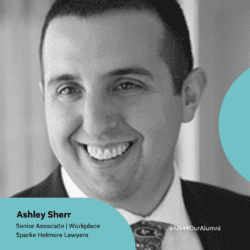 Why did you choose a career in law?  
I have always been passionate about the opportunity to advise and advocate on behalf of others and I also really love problem solving and have always enjoyed a good argument (specifically winning them!). A career as a lawyer seemed like a natural fit as it would put me in a position to do all of these things and more.
What is your current role and what led you to this role/ chapter of your career?  
I am currently a Senior Associate in the Workplace team at Sparke Helmore Lawyers. This role involves advising a range of commercial and government clients in relation to employment law, industrial relations and safety matters. The practice is incredibly diverse and involves me doing a variety of work including underpayment of wages, unfair dismissals and discrimination all the way through to safety incident management and defending against WorkSafe prosecutions.
Sparke Helmore also has a very active pro bono practice so I am able to put my skills to good use helping those who would not otherwise be able to afford legal representation.
My interest in employment law actually came from my time at Leo Cussen where I undertook the Employment Law elective. Through that elective I had the opportunity to meet Ian Scott who led that unit (and I understand is now a Member at VCAT). Ian was a lawyer at JobWatch (an employment law CLC). He must have appreciated my interest in employment law and encouraged me to contact him about volunteering at JobWatch which I took him up on. While volunteering there I fell in love with the area. When I finished my PLT at Leo Cussen, I spent about six months as a paralegal/researcher at some small firms doing a mix of employment and commercial work until I was able to secure a position as a Graduate Lawyer at the Fair Work Ombudsman. I then spent three years working as a lawyer at the Fair Work Ombudsman conducting regulatory prosecutions under the Fair Work Act 2009 (Cth). I also had the opportunity to spend twelve months as an Associate to a Commissioner at the Fair Work Commission. After four years learning the ins and outs of the Fair Work Act (Cth) at the FWO and FWC, I was keen for an opportunity to take what I had learned and apply it to help a wide variety of clients. That is what led me to Sparke Helmore! 
What motivates you in your legal career? 
Producing good outcomes for clients and solving problems. While those answers might seem a bit cheesy it is true. As a lawyer we are an advocate and adviser for our clients so a good outcome for them means we have done our job properly. Achieving this goal is what drives me as people and businesses are too often lost in trying to navigate the incredibly complex regulatory systems Australia has in place. Being able to provide that guidance and assistance is what drives me to explore every avenue and consider orthodox and novel solutions to different legal problems.  
What do you remember most about your time at Leo Cussen? 
I remember the big emphasis on practical learning. I think that was very valuable as it really put me in a good position when I made the transition to the legal industry. It gave me a little bit of extra knowledge as compared with the average graduate which was very useful!
What advice would you give a law graduate /junior lawyer in moving into their career?  
I think there are two things I would recommend law graduates think keep in mind: 
Is being a lawyer what you want to do? This is something a lot of law graduate grapple with and it is ok if the answer is no!  For me the answer was yes, but that does not mean it is the case for everyone. It does not mean you have failed or you are not using your degree properly if you do not want to be a lawyer. Law degrees can take you into all sorts of exciting careers.

 

Persistence is key. Trying to get your first role, whether as a lawyer or otherwise, can be a daunting task. It is a path that often attracts a lot of 'no's' before you finally get a 'yes'. It can be very challenging and, at times, disheartening. There will be times when you might feel like giving up. It is ok to have those feelings, it is only human to feel like that in the face of a rejection. Recognising that these feelings are a reasonable reaction is key to processing that feeling. But it is important that after you have had some time to experience those feelings that you pick yourself up and keep going. That persistence will help you get your foot in the door in the legal (or any other) industry.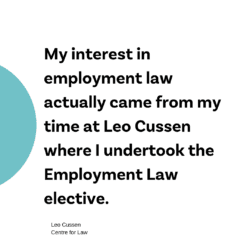 What does whole life balance look like to you? And What aspects of the law do you find most demanding and how have you managed these against other priorities in your life?
Work – life balance for me is about working in a way that lets me enjoy my life and essentially work 'around' my life rather than having to sacrifice parts of my life to work. An example of what I mean by that is if I have a day when I am required to work late, I don't miss out on a family dinner or dinner with my partner because of work. Instead I have the flexibility to take a break for dinner, enjoy some social time and then return to finishing my work at a time that suits me.
Law can be a demanding profession so having the ability to work make your job and working times work for you is key. I have been very fortunate that Sparke Helmore has been an environment where my desire for flexible work has been so strongly supported by both the partners in my team and the firm more broadly. 
What positive activity have you seen in the law and why does it matter?  
I think the big move towards flexibility and recognising the importance of switching off has been a great thing to see in the legal profession. Lawyers are, by their nature, very hard working and dedicated people. Because of that, we sometimes forget how important it is to take a break and not let other parts of your life wither due to work. Flexibility is also very important because it allows a lot of people with personal commitments to stay in the legal industry while still maintaining their personal goals, whether it is looking after their children or their aspiring career as a painter. While the legal profession still has a way to go, the changes I have seen in this area during my short time as a lawyer are very encouraging. 
I also should mention I am very enthusiastic about the changing expectations about dress code that has emerged from COVID-19 and the lockdowns in Australia (particularly Victoria). It seems more and more firms are moving to a 'dress for your day' approach to workplace dress codes which is great to hear after the laxer approach to dress codes that was taken during lockdowns. There is nothing about being a lawyer that means you have to be in a suit when you are sitting in the office working on documents! 
What do you hope for the future of law? 
My hope is that the legal world will continue to innovate and modernise, both in terms of culture (such as the flexibility we have talked about already), and in terms of process and expectations, such as use of technology. I suspect the work of a lawyer in ten years time will be very different from what I do now! 
We are grateful to Ashley for his time to undertake this interview and we are proud of our rich alumni history inspiring peers and future lawyers with their valuable contribution to the legal industry.