Lawyer & Mentor, Mental Health First Aid Instructor
---
Lawyers Weekly Women in Law Awards- Wellness Advocate of the Year 2022.
Bachelor of Law
Graduate Diploma of Education
Graduate Certificate of Literary Studies
Cert III Fitness Training
Australian Legal Practitioner
At Leo Cussen
Desi is a full-time mentor in the blended Practical Legal Training course. With her passion for education, Desi's focus is in assisting her trainees gain the critical literacy needed for entry into the profession whilst igniting the creativity required for the future of practice.
Desi is also a strong advocate for the mental health of her trainees, the well-being of new lawyers and the profession as a whole. She is a certified mental health first aid trainer and regularly delivers the mental health first aid course providing participants with the support skills to assist people who are developing a mental health problem or in a mental health crisis.
Before Leo Cussen
Desi was admitted to the profession in 2005 and has practiced in mid-tier, suburban and private firms. Her experience spans property, planning and family law practice areas. In 2013, she completed a Graduate Diploma of Education with a focus on legal studies and English literature and worked casually in a secondary school setting.
Prior to becoming a mentor at Leo Cussen, Desi taught Practical Legal Training as an experienced lecturer for 4 years.
In her advocacy for mental health and wellbeing, Desi regularly presents for private and government body conferences in Australasia as a legal ambassador for mentally healthy workplaces.
Memberships
Desi is a member of the International Bar Association (IBA). Most recently she joined the IBA's Wellbeing Taskforce as the Australian delegate charged with tackling the problem of poor mental health among the world's lawyers and in promoting policies and working practices to help to improve wellbeing within the legal profession.
Desi is also a member of the Law Institute of Victoria.
Achievements/Special Interests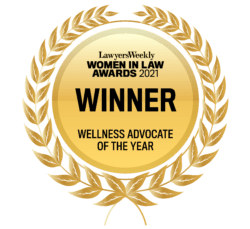 Desi is the winner of the Lawyers Weekly- Women in Law Awards- Wellness Advocate of the Year for 2021.
In 2019 Desi contributed to a book chapter on time perspective in relation to wellbeing and productivity in Lexis Nexis' 'Wellness for Law: Making Wellness Core Business.'
When she is not at work, Desi is an avid runner and likes nothing more than to start off her day with a long run. As an advanced scuba diver, she also likes to head down to the beach for a boat dive or her absolute favourite – a night dive!